SERMONS AND
COMMENTARY
Patristic / Medieval
Chrysostom (Gospel)
Reformation
Calvin (Gospel)
Calvin (Epistle)
Caroline Divines
Evangelical Revival
Wesley's Notes (Gospel)
Wesley's Notes (Epistle)
Oxford Movement
Keble (Feast of St. Matthew)
Williams (Feast of St. Matthew)
Recent
Crouse
Other
Matthew Henry (Gospel)
Matthew Henry (Epistle)
Additional Materials
Links to Images of St. Matthew:
- Biblical Art on the WWW
Other portraits of St. Matthew
THE COLLECT.
O ALMIGHTY God, who by thy blessed Son didst call Matthew from the receipt of custom to be an Apostle and Evangelist; Grant us grace to forsake all covetous desires, and inordinate love of riches, and to follow the same thy Son Jesus Christ, who liveth and reigneth with thee and the Holy Ghost, one God, world without end. Amen.

THE EPISTLE. 2 Cor. 4. 1.

THEREFORE seeing we have this ministry, as we have received mercy, we faint not; But have renounced the hidden things of dishonesty, not walking in craftiness, nor handling the word of God deceitfully; but by manifestation of the truth commending ourselves to every man's conscience in the sight of God. But if our Gospel be hid, it is hid to them that are lost: In whom the God of this world hath blinded the minds of them which believe not, lest the light of the glorious Gospel of Christ, who is the image of God, should shine unto them. For we preach not ourselves, but Christ Jesus the Lord; and ourselves your servants for Jesus' sake. For God, who commanded the light to shine out of darkness, hath shined in our hearts, to give the light of the knowledge of the glory of God in the face of Jesus Christ.

THE GOSPEL. S. Matthew 9.9.
AND as Jesus passed forth from thence, he saw a man, named Matthew, sitting at the receipt of custom: and he saith unto him, Follow me. And he arose, and followed him. And it came to pass, as Jesus sat at meat in the house, behold, many publicans and sinners came and sat down with him and his disciples. And when the Pharisees saw it, they said unto his disciples, Why eateth your Master with publicans and sinners? But when Jesus heard that, he said unto them, They that be whole need not a physician, but they that are sick. But go ye and learn what that meaneth, I will have mercy, and not sacrifice: for I am not come to call the righteous, but sinners to repentance.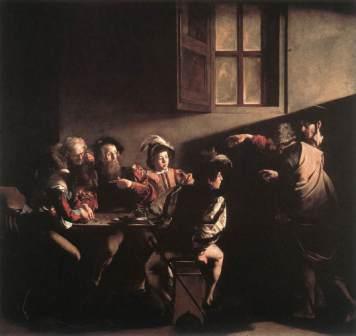 The Calling of St. Matthew Carravaggio 1600
INTROIT. Ps 119, Pt 9
O LORD, thou hast dealt graciously with thy servant : according unto thy word.
66. O learn me true understanding and knowledge : for I have believed thy commandments.
67. Before I was troubled, I went wrong : but now have I kept thy word.
68. Thou art good and gracious : O teach me thy statutes.
69. The proud have imagined a lie against me : but I will keep thy commandments with my whole heart.
70. Their heart is as fat as brawn : but my delight hath been in thy law.
71. It is good for me that I have been in trouble : that I may learn thy statutes.
72. The law of thy mouth is dearer unto me : than thousands of gold and silver.
Glory be.
GRADUAL. Ps 119, Pt 12
O LORD, thy word : endureth for ever in heaven.
90. Thy truth also remaineth from one generation to another : thou hast laid the foundation of the earth, and it abideth.
91. They continue this day according to thine ordinance : for all things serve thee.
92. If my delight had not been in thy law : I should have perished in my trouble.
93. I will never forget thy commandments : for with them thou hast quickened me.
94. I am thine, O save me : for I have sought thy commandments.
95. The ungodly laid wait for me to destroy me : but I will consider thy testimonies.
96. I see that all things come to an end : but thy commandment is exceeding broad.